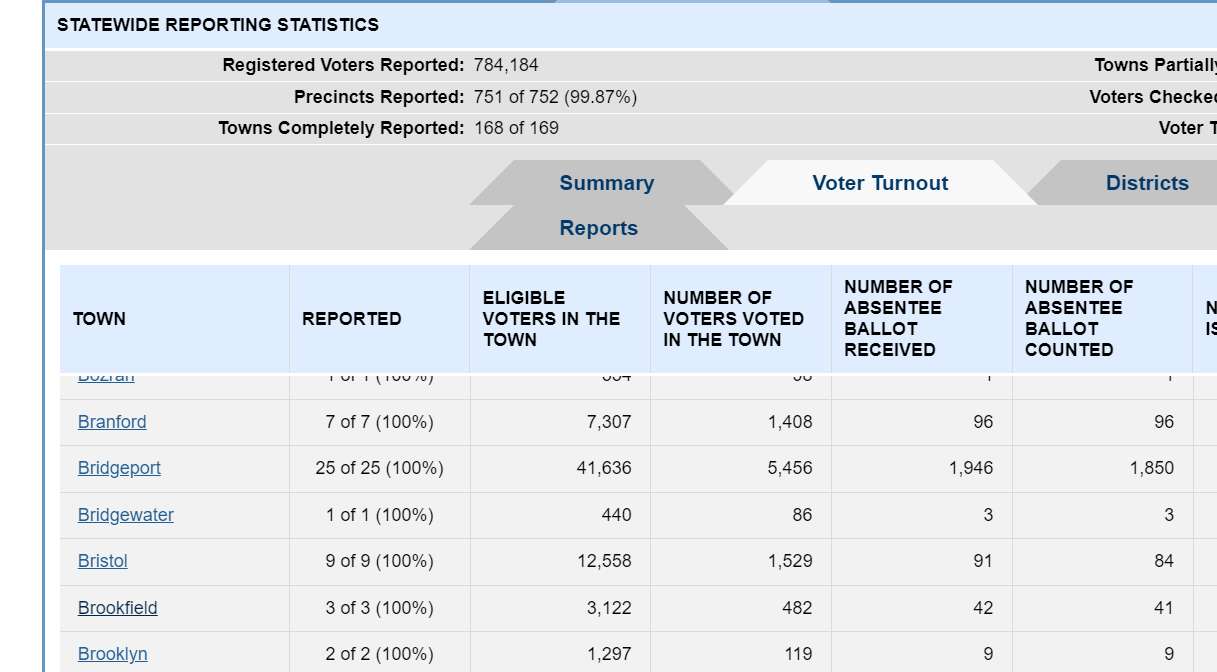 Bridgeport is Connecticut's Absentee Voter King – Only at Bridgeport®
Bridgeport is Connecticut's king of the hill among absentee voters. It's not even close, a trend that has skyrocketed over the past decade as a measure of the city's overall Democratic voters.
Bridgeport, Connecticut's most populous city, also has the most registered Democrats in the state, about 41,000. Of the 5,456 Democrats who voted citywide in Tuesday's primaries, 1,850 votes were cast. counted as absentees, or about a third, according to statistics from the Office of the Secretary of State (SOTS). The statewide turnout was about 14% with Bridgeport about 13%.
Turnout in primaries is notoriously lower than in general elections.
Just to compare a similar city, 5,339 Democrats voted in New Haven, with 459 counted as absentees.
In Connecticut's 127th General Assembly district, Councilman Marcus Brown holds a five-vote advantage pending a recount scheduled for Tuesday. Brown's land operation, winning all three constituencies in the district, avoided a mail-in ballot harvest by incumbent Jack Hennessy's campaign which accounts for a staggering 45% of the votes he received, an effort led by his campaign manager Maria Pereira.
Remember the days when candidates chronically complained and lost lopsidedly in the battle for mail-in ballots? Opponents of the party organization now say we will play too. It has become much easier to vote by mail in a state requiring absentee voting with excuse only, as voters can now simply cite an illness, such as covid, as a reason to avoid walk-in precincts.
SOTS stats show a close result in Bridgeport between incumbent state senator Dennis Bradley and endorsed-Dem Herron Gaston emerging victorious. Gaston won Bridgeport 1,599 to Bradley's 1,555.
Gaston, in percentage, won the Stratford part of the district easily, by over 100 votes.
Participant Overview
---