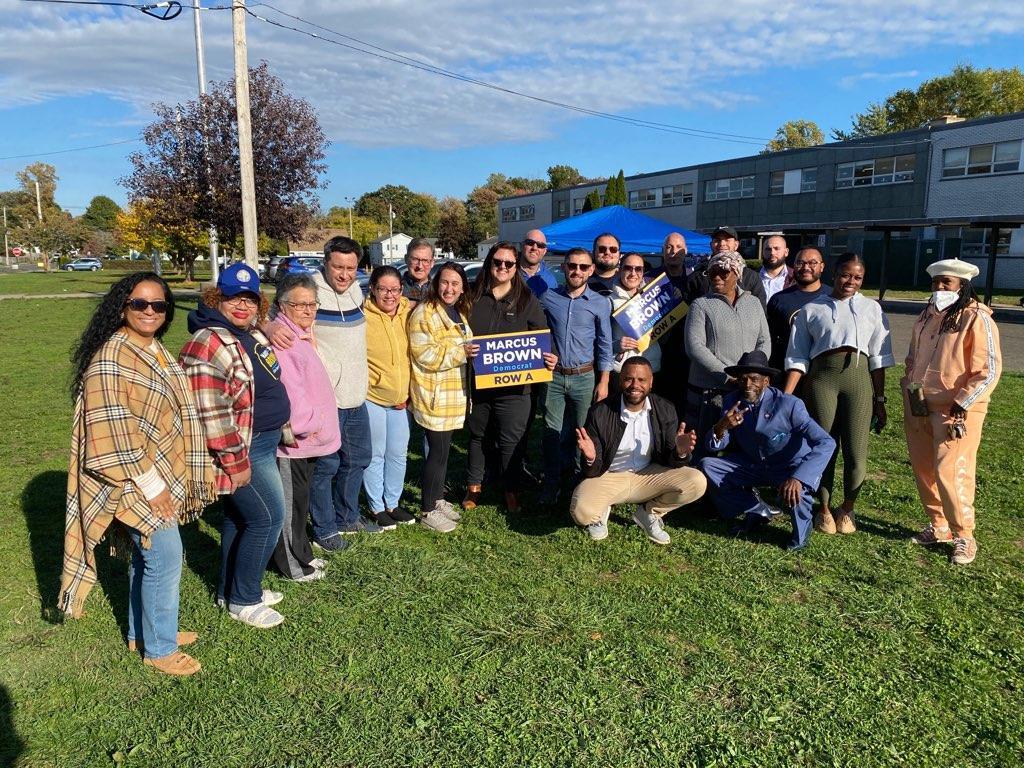 Hit The Road Jack – Brown Convincingly Beats Hennessy In Second State House Primary – Only In Bridgeport®
It's been a long journey from a hot August summer to a cool October fall, but on Tuesday night, following a new court-ordered Democratic primary, Councilman Marcus Brown cemented his grip on State House's predominantly North End 127th District by beating long-term incumbent Jack Hennessy, according to unofficial statements.
Brown blasted Hennessy with the drop-in vote bigger than August numbers, backed by the city's political establishment that has coalesced against anti-vaxxer Hennessy, his campaign manager, adviser municipal Maria Pereira, as well as officers whose race card and gay bashing backfired.
Walk-in and mail-in votes show Brown with a 635-499 lead over Hennessy, according to unofficial returns, covering the constituencies of Winthrop, Blackham and Read.
As the City's campaigns roll on, this one has hit modern rock bottom with Hennessy supporters trying to persuade North End voters at the gates to stick with the 72-year-old white guy against the new guy from 30 who happens to be black and gay, showing them photos of Brown with his white life partner Tom Gaudett who also serves as a campaign manager.
Hennessy and Pereira failed to understand the incumbent's disconnect from the neighborhood's changing demographics of what was white, now more brown and black.
Pereira viewed Hennessy as nothing more than a vessel to build a future power base against the city's Democratic establishment which has closed ranks against his belligerent rhetoric. On Tuesday, Brown called on more than 40 political insiders, including a number of city council members, to persuade, entice, encourage and lead voters into precincts. And they did it with joy, even those from outside the neighborhood.
When you break bones, poke the bear, insult, ridicule, watch what comes back.
Two agents who know their way around, former state Rep. Chris Caruso, two-time mayoral candidate and Bill Garrett who introduced Hennessy to city politics 20 years ago hated the incumbent's change in leadership . They showed up together at the Blackham school grounds to vote.
When the votes were counted in the August primary, Brown had a five-vote lead, triggering an automatic recount. Brown brushed off the vote by machine but the mail-in ballot charge organized by Pereira kept him close.
In a bizarre turn of events during the recount, nine ballots were misplaced, giving Hennessy a one-vote advantage.
Brown showed up in court. Superior Court Judge Barry Stevens ordered a manual recount of all ballots. Brown received a two-vote lead.
Hennessy filed a counterclaim, alleging four mail-in ballot requests were signed by relatives of voters.
Stevens ordered a new primary, stating that it was impossible for him to certify a winner.
He gave both sides less than two weeks to organize a new vote, an odd decision given everything that involves a draw.
Camp Brown staged a tremendous turnout in the recast primary.
Hennessy will take a voting spot in November on the Connecticut Working Families Party line, but Brown is the overwhelming favorite, as the Democratic flag bearer, to represent the district.