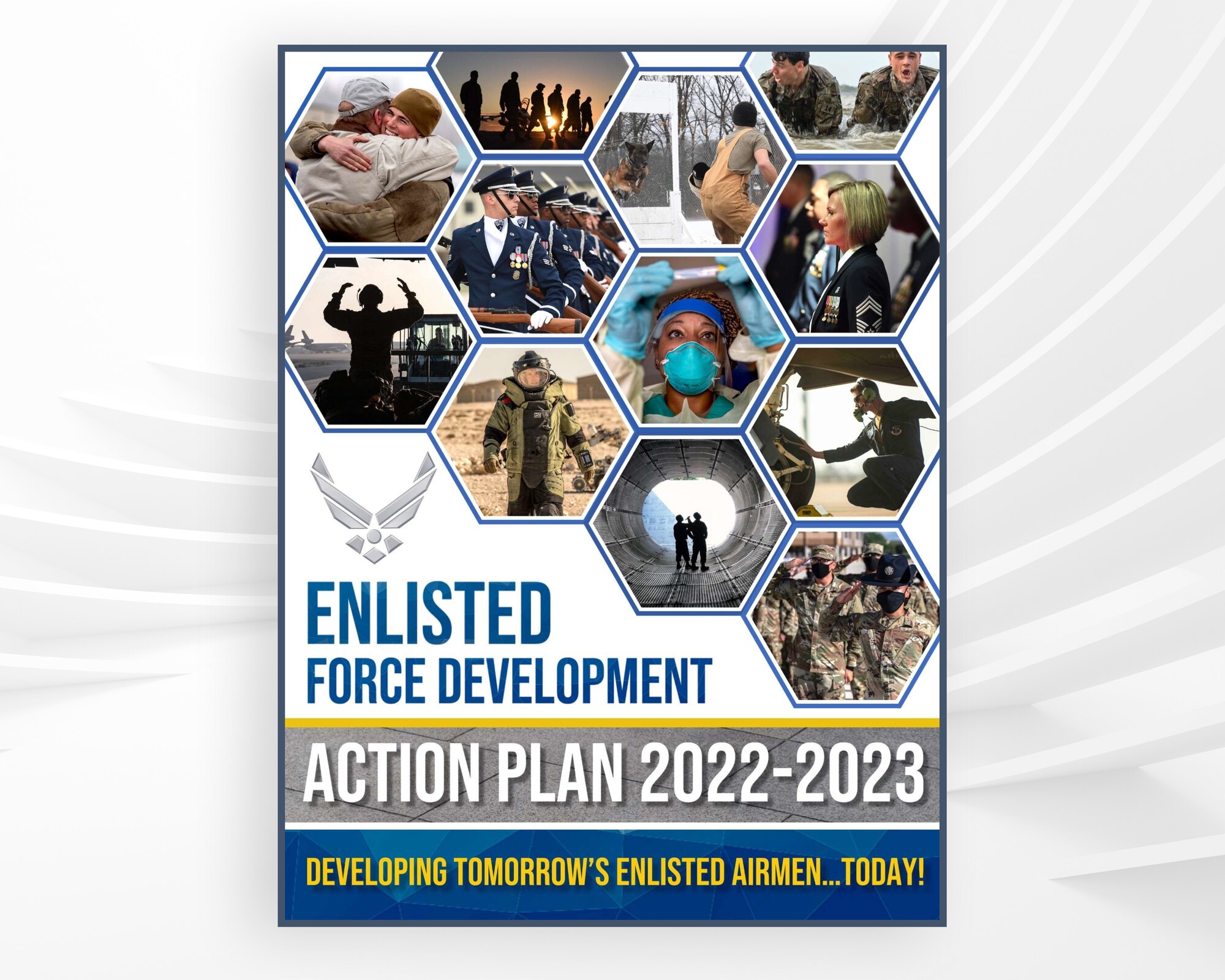 The Air Force unveils an action plan to "develop the enlisted aviators of tomorrow"> Air Force> Posting the article
WASHINGTON (AFNS) –
As the service continues to refine what is needed to develop the Airmen needed to fight and win our future wars, Air Force officials have announced the implementation of the Air Force Development Action Plan. enlisted forces located here.
With the aim of achieving 28 force development goals over the next two years, the plan and a "Master Plan for the Development of the Enlisted Force", released in the spring, is aligned with the Chief's Action Orders. staff and focuses on investing in and empowering Airmen for future combat.
"The fight of tomorrow has already started and it will no doubt be fought by many Airmen who serve today," said Chief of Staff of the Air Force, General CQ Brown, Jr. "As we continue to focus on our preparedness for strategic competitors, particularly China and Russia, our Airmen will need to be prepared to conquer the speed and complexity of the threats we face every day around the world. This plan is designed to do just that.
The deliberate development of the enlisted force, which represents over 75% of the Air Force's military personnel, means that a teamwork culture that integrates the diverse capabilities, talents and ideas of each is essential to maximize and achieve significant results.
"An environment focused on developing and managing the talent of our Airmen is essential for their ability to thrive and reach their full potential," said Chief Master Sgt. Air Force JoAnne S. Bass. "The deliberate development of the enlisted force is a mission imperative and must be a top priority for everyone who is expected to lead – from frontline supervisors to commanders. "
Soon the plan will be accompanied by the "Master Plan for the Development of Enlisted Forces". This document will serve as a living foundational resource that links all enlisted developments from entry to departure, including key concepts for connecting enlisted Airmen to the profession of arms.
"The plane serves as a focal point to create a common understanding of our journey in the Air Force," Bass said. "This will provide every aviator with a roadmap that highlights the pathways, resources and opportunities to be successful. "
The premise of the action plan centers on six areas that align with the priorities of the Air Force and the CSAF action orders, with quarterly report cards to force for accountability and transparency on updates and progress in each area.
Competitive strength
Supporting Airmen and Competitive Action Orders, this area consists of objectives related to the development of a highly skilled, educated and adaptable Airman, ready to operate in a joint environment and to dominate competition.
Initiatives include updating the 'Little Blue Book', Air Force Core Values ​​and 'Little Brown Book', the structure of enlisted forces, as well as the creation of a 'Purple Book' that includes values, capabilities, and concepts of the Joint Force team's combat.
Development of frontline leaders
Supporting Airmen Action Orders, Competition and Design, this area focuses on the deliberate leadership development for Airmen as they take on the increased responsibility of caring for others.
Initiatives include "the blueprint for the development of enlisted forces," developing validation processes for new supervisors, increasing the value placed on experience, and creating a standardized writing guide for the Air Force.
"Saying 'you'll get it' to new supervisors can't be our default approach," Bass said. "We need to be more deliberate, especially when it comes to people. "
Team up to solve problems
Supporting Airmen and Competitive Action Orders, this focus area centers on association with the ability to operate and survive in all areas.
Initiatives include training and developing Airmen at all levels to foster inclusion and value diversity, cultivate the problem-solving abilities inherent in our people, and enable command teams to better engage with partners. communities and develop exercise models to build the confidence to function under mission command.
"Adopting a versatile mindset to operate beyond traditional specialties towards commander's intent while executing decisively with speed, discipline and confidence is key to the Vision for Force 2030," said Brown. At the same time, functioning as part of a collaborative team requires Airmen to bring their unique and diverse perspectives to achieve mission objectives by seizing competitive advantage. "
Resilience is fundamental for preparedness
Supporting Airmen order of action, this focus area supports the understanding that wellness enhances resilience and builds Airmen ready.
Initiatives include instituting 'Airmen time' in units to elevate connections and prioritize the welfare of Airmen, further development of welfare education programs, better use of training assistants resilience trainers and resilience master trainers as well as financial literacy and transition assistance programs tailored to each level.
"Airmen and families who are resilient and ready are the foundation of everything we do as an air force," said Brown. "Prioritizing our readiness in the human realm mitigates the threats we face and keeps our enlisted force ready to compete." "
Strength development ecosystem
Supporting the action orders of Airmen, Competition and Design, this area is focused on opening up development opportunities beyond traditional classrooms, courses and schools – to deliver the right content at the right time.
Initiatives include creating an Air Force-wide development plan and framework for enlisted skill progression, re-imagining enlisted professional military training to address historical gaps during of a career, the retention of quality content and the professionalization of a broader framework to link development goals to the grassroots levels.
"To be successful in 21st century combat, Airmen need an interconnected development system that supports continued growth," said Bass. "We need to do this by harnessing the modern capacities that exist in the information age to make closer links between initial skills, technical and training, education and on-the-job experiences. "
Systems for matching values
Supporting bureaucracy and order-of-action design, this area focuses on reducing systems, processes or practices that needlessly rob Airmen of time or hinder the achievement of Air Force priorities.
Initiatives include transforming the Airmen feedback process, redesigning enlisted performance reviews to align with Airmen leadership qualities, advancing promotion testing to include the application of situational judgment, formalizing the program career expansion, to include special development tasks and improving talent management systems to take advantage of them.
"This plan is about responsibility and action… not talk," Brown said. "While we can't do all of this at the same time, we won't wait to start developing the 2030 Airmen today. "