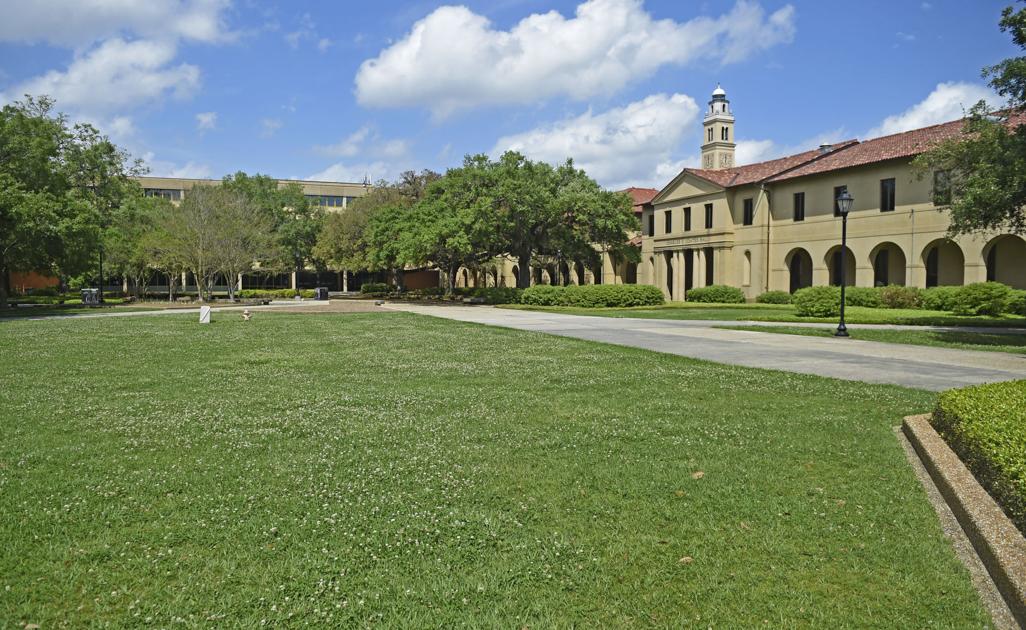 View List Of The Fastest Growing, Most Money-Making Businesses Led or Owned by LSU Graduates | Business
[ad_1]
Jackson-based DarkHorse Industries tops this year's list of 100 Fastest Growing LSU Companies, while Christus Health-Louisiana & Southeast Texas tops Roaring's 10 Most Generating Companies list. income.
The LSU 100 and Roaring 10 lists recognize companies owned or operated by LSU graduates on the basis of confidential financial results submissions.
DarkHorse, a concrete cutting and demolition company, is led by Dustin Butler, co-owner, founder and CEO and Jonathan Walker, co-owner and CFO. Butler received a bachelor's degree in construction management from LSU; Walker received a BA in International Relations and Business and an MA in Public Administration from the university.
Chris Karam, senior vice president of group operations for Christus Health, based in Alexandria, graduated from LSU. He oversees healthcare facilities in Louisiana and Southeast Texas including Christus St. Francis Cabrini in Alexandria, Christus Shreveport-Bossier Health System, and Christus Ochsner Health Southwestern Louisiana in Lake Charles.
The company's rankings on the LSU 100 list and the Roaring 10 list were revealed at a gala on Friday night.
The full list of 100 LSUs, ranked by compound annual growth over a three-year period, is:
Black Horse; Franklin Associates, Baton Rouge, communications consultant; CompuFlow Solutions; Mesa, Arizona, engineering, military, aerospace; Warranty restoration services, Baton Rouge, restoration, construction, mitigation; Bear General Contractors, Pensacola, Florida, commercial construction; Roofing Hargrove, Shreveport, construction, roofing; Honey Island Enterprises dba Radterra and Maritime Veterinary Imaging, Emyvale, Canada, veterinary radiology; Kismet Cosmetics, Covington, cosmetics and beauty; Abadie, Mandeville, oil and gas, engineering, petrochemicals, import, export, offshore, midstream: Trifecta Sports Therapy, Baton Rouge, sports massage; Hopkins Media, Baton Rouge, music / education; Patient Plus Urgent Care, Baton Rouge, health care; Oasis spaces, Bâton Rouge, construction; Goss Advisors, New Orleans, finance: Paperless Environments, Baton Rouge, software publishing; Gatorworks, Baton Rouge, advertising, digital marketing, web design; Future Genius Solutions dba ThreeSixtyEight, Baton Rouge, advertising; Royal Automotive Group, Baton Rouge, automotive sales and service; Roofing and sheet metal work Garcia, Prairieville, home renovation, construction, roofing; Gulf South Research Corporation, Baton Rouge, environmental consultancy;
Pentecom, Palestine, Texas, technical data services; Legacy Title, Baton Rouge, real estate title company; Safety management systems, Lafayette, safety, medical and inspection services; Urban South Brewery, New Orleans, beverage manufacturing; Pontchartrain Partners, New Orleans, construction; Vectura Consulting Services, Baton Rouge, engineering; Access doors, Bâton Rouge, construction; ECOPRO, New Orleans, clean energy distribution; Manchac Homes, Baton Rouge, home builder / builder; Provident Resources Group, Baton Rouge, non-profit; Mela & Roam, Houston, Texas, retail; Media launch, Baton Rouge, production of video, motion media and experiential content; Cajun ready-mixed concrete, Baton Rouge, construction; Moran Construction Consultants, Bâton Rouge, construction consultancy; Babcock Partners, Baton Rouge, law firm; Crescent Payroll Solutions, Métairie, corporate payroll and HR services; Anytime Flooring, Baton Rouge, flooring; Kilcor Construction, Alpharetta, Georgia, construction; Lipsey's, Baton Rouge, wholesale distribution; CORE Health Networks, Baton Rouge, occupational medicine;
Catapult Creative Media Incorporated, Baton Rouge, digital marketing and advertising; Facility maintenance management, Denham Springs, maintenance and construction; Evergreen Tractor and Equipment, Covington, Distribution; Contractors Perrier Esquerre, St. Rose, commercial construction; Losey Insurance and Financial Services, Baton Rouge, finance; Tadpole Academy of Baton Rouge, Prairieville, education; The Anderson Group Real Estate Services, Nashville, Tennessee, real estate; Global Data Vault, Dallas, Texas, technology; Scott + Cormia, Orlando, Florida, architecture, interior design, real estate development; Four Corners Wealth Management, Peachtree Corners, GA, financial planning; Vacherie Fuel, Thibodaux, propane; Elite Fulfillment Solutions, Dallas, Texas, warehousing and distribution; University Veterinary Hospital, Shreveport, Veterinary Medicine; Handcrafted Mimosa, Baton Rouge, jewelry; Kidder & Schultz CPA, Baton Rouge, accounting; VGraham, Baton Rouge, healthcare, IT, manufacturing, distribution, professional services; IWD agency, Bâton Rouge, eCommerce agency; The Royal Treatment, Baton Rouge, pet grooming and boarding; MAPP, Baton Rouge, construction; Carter & Hatcher Consulting, Houston, TX, bookkeeping / accounting;
Investar Bank, Baton Rouge, bank; Grace Hebert Curtis Architects, Baton Rouge, architecture; Guardian Computer, Métairie, informatique; Premier Health Consultants, Baton Rouge, Health Care; Frantz-Gibson Painting Company, Baton Rouge, construction; Ritter Maher Architects, Baton Rouge, architecture; Window World of Baton Rouge, Baton Rouge, construction; orthopedic specialists from Louisiana, Lafayette, health care; Horizon Financial Group, Baton Rouge, Financial Services; Walther Animal Clinic, Houma, veterinary medicine; Walk-On's Enterprises, Baton Rouge, restaurants, hotels, franchising; Geocent, Metairie, Information Technology, Aerospace and Defense Engineering; Law Firms of Howard E. Conday Jr., Natchitoches, Legal Services; Hickory Small Animal Hospital, Ponchatoula, Veterinary Medicine, SEJ Services, Mount Pleasant, SC, Settlement Services; SITECH Louisiane, Baton Rouge, construction; Bank of the Red River, Alexandria, bank; BrownRice Marketing, New Orleans, Advertising and Marketing; Groupe Financier Argent, Ruston, wealth management; SEMPCheck Services, Houston, Texas, power generation, storage and transmission;
Pinnacle Group Insurance, Lafayette, financial services; Netchex, Covington, Payroll, HR and Benefits Software; Cottonport Bank, Cottonport, bank; Lee Michaels Fine Jewelry, Baton Rouge, retail; SRI Telecom, Bâton Rouge, telecom / broadband / integration services; Daigrepont & Brian, Bâton Rouge, chartered accountants; The Pangburn Group, New Roads, Financial Services; Cadence, Fort Lauderdale, Florida, landscape architecture; HNTB Corporation, Kansas City, Missouri, engineering, architecture, planning; Quality Engineering & Surveying, Port Vincent, engineering, surveying, landscape architecture, planning and program management; New Orleans Roast, Mandeville, Food and Drink; ROSA Enterprises Corporation dba The UPS Store 2305, Baton Rouge, Shipping and Small Business Solutions; Emerging method, Bâton Rouge, management consulting; Vivid Ink Graphics, Baton Rouge, signs, printing, graphics; B&G Food Enterprises, Morgan City, Taco Bell franchisee; Two housekeepers and a mop, Baton Rouge, residential cleaning; Pinot's Palette Franchise, Houston, Texas, arts and entertainment; Romph & Pou Agency, Shreveport, advertising; Telephone answering machine, Carencro, telephone answering service and call center; and Lyons Specialty Company, Port Allen, Wholesale Grocery.
The Roaring 10 list ordered by revenue is CHRISTUS Health-Louisiana and Southeast Texas; Performance contractors, Bâton Rouge, industrial construction; HNTB Corporation, Kansas City, Missouri, engineering, architecture, planning; Lipsey's, Baton Rouge, wholesale distribution; The Newtron Group, Baton Rouge, industrial construction; ISC Constructors, Baton Rouge, industrial engineering and construction; Danos, Gray, oil and gas; Audubon Engineering Company, Houston, Texas, engineering, energy, construction; B&G Food Enterprises, Morgan City, Taco Bell franchisee; and Provident Resources Group, Baton Rouge, not-for-profit.
[ad_2]